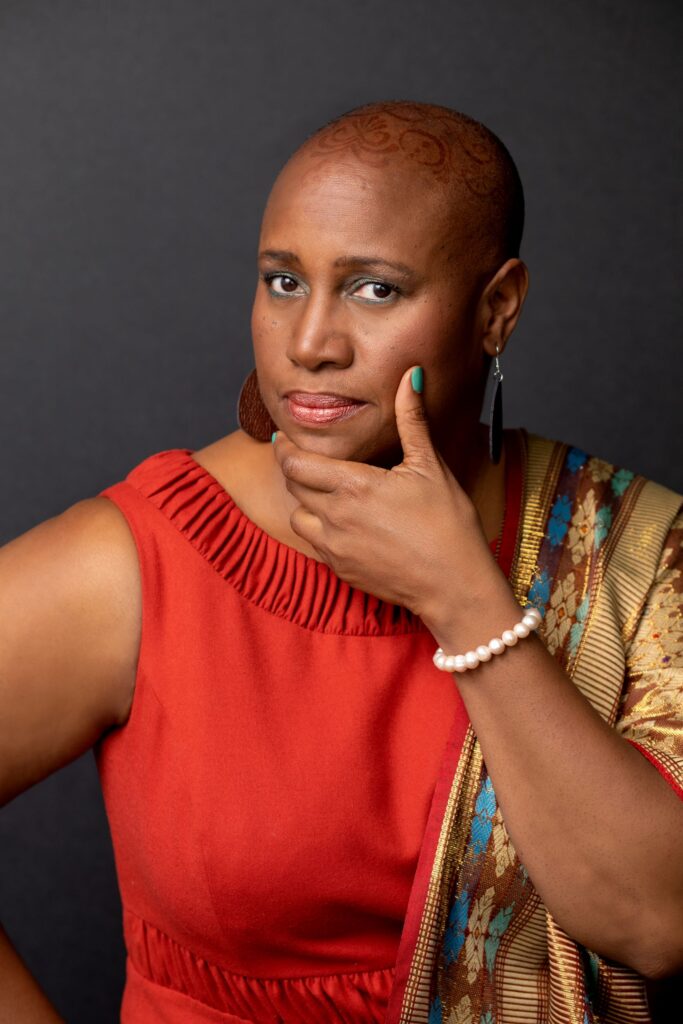 You are an active member of several Rhode Island communities. Let's start with Langston Hughes Community Poetry Reading, which you co-direct. Tell us about it.
The Langston Hughes Community Poetry Reading (LHCPR) is the brainchild of Anne Edmonds Clanton. She was the Executive Director of the Langston Hughes Center for the Arts and Education from 1981-1996. The annual poetry reading was a part of the Center's programming beginning in 1995. Initially the goal of the Center was to introduce Providence's young people to the Poet Laureate of Harlem and his many contributions to American history, culture, and civic philosophy. The reading became the go-to annual event for all, as the premier event for the celebration of Black History Month but then attendance began to dwindle. It seemingly lost its connection to the community.
Co-director S. Kai Cameron and I inherited the annual reading in 2017, with the goal to give the event back to the community and put a deeper focus on Black and Brown youth and keep this important public humanities event going. Mr. Hughes is our Shakespeare. I do not think there is any one in our modern history who was as prolific as Langston Hughes. As a Black man in the 1920s, the poet, writer, and social activist had traveled the world. We don't get an artist like Gil Scott-Heron or even the canon of modern hip hop without the creative labor of Langston Hughes. That's extraordinary and needs to be celebrated.
We doubled the event attendance numbers in the first year we led the reading and had 455 people last month at the 28th annual event.
You also are a leader of the Racial and Environmental Committee of Providence. What is the committee's mission?
I am the Director of the Racial and Environmental Justice Committee (REJC), this organization is committed to bringing people from frontline communities into city and state wide decision-making processes. Additionally to bring racial and environmental justice and equitable resilience into these neighborhoods. In this co-governance work for racial equity, it is the frontline communities – such as South Providence, Washington Park, Elmwood, Olneyville and West End – whose needs must be the drivers in solving these major problems.
The water residents drink, the air they breathe, the schools our children attend and how the police operate in our community are all environmental justice matters. It's also whether your neighborhood suffers from food apartheid, how the garbage is collected, and the way streets are plowed and paved. It's everything that interacts with people in the sky, on the earth and water.
The types of pollution happening at the Port of Providence and the 6-10 connector are the reasons why 50 percent of youth in those surrounding areas have asthma, and yet there has not been any serious infrastructure investment by the city or state to eradicate this tragic statistic.
It is why REJC as the co-authors of the Climate Justice Plan that City of Providence and other leaders still lean on – as well as our Just Providence Framework – for this critically necessary work.
And you are a writer as well. What topics and issues interest you?
In addition to racial and environmental justice, and the arts, I am interested in the spiritual lives of women – Black and Indigenous women in particular, people of low wealth and limited access, children, and elderly and how they move in the world because of, and despite of, being often marginalized, oppressed and the victims of racist identity politics. Although it is very challenging, all can and should maneuver through this world and achieve success in the REJC we call it "Buen Vivir". In the Declaration of Independence it's called "the pursuit of happiness".
What are the most pressing issues facing Providence residents – and also for all Rhode Islanders?
There are so many, but in terms of the arts, environmental justice, education, housing and the many issues facing Providence residents and others that are marginalized, the primary challenge is access or the lack of access. Take education as an example. We are still operating under a separate but equal ideology, and yet we are more than six decades after the Supreme Court Brown v. Board of Education case that declared school segregation unconstitutional. Here in Rhode Island we do not have equal access to a robust public education. It's the same thing with housing and other creature comforts, healthy food, good clothes, clean water and clean air. They all come into play because there is so much inequity around them. How does one get a well paying job to support oneself if you don't have access to a robust education?
Do you see any progress in addressing them?
I am an optimistic person who governs with hope in every aspect of my life, so the answer is yes. Yet if I were to look at the reality of it, the answer is a hard maybe because often times, we can't get out of our own bureaucratic, classist way to do the simple things to achieve equity. Give money to people who need it. Don't ask them questions and tell them how to use it. If you want people to have better housing, build it and then give equal access to the housing. We talk about these high ideals of "we the people," but we actually don't live by them. What I've learned is most of us really aren't interested in equality for everyone. It works better for some of us, such as those in power, if it is uneven – and so it is uneven.
What role does politics play?
I believe I just answered that, and it is precisely why equal representation matters in all levels of governmental leadership.
Speaking of politics, you ran for Providence City Council last year. You were not elected, but what was campaigning like?

It was awful, and don't let anyone tell you differently. What was great about my campaign was talking to my neighbors, elevating our collective concerns, sharing my solutions for them and finding the right pathways and partnerships to put policies in place to minimize the many equity gaps in Providence and Rhode Island. But campaigning, it's a brutal exercise and is likely why I now have a torn meniscus. It was a great learning tool by clarifying for me how much personal power we all get to exercise in this country. If there is mortal sin in the 21st Century, it is giving your personal power away. You don't have to, and you don't even have to work hard to utilize it. All you need to do is engage a little bit in the things that are important to you and your loved ones.
Tell us about some of your background. We understand that you belong to a family that's been 12 generations in Rhode Island.
My two grandmothers were really centered in their ethnicity – one Narragansett and one Cape Verdean – and my mother's family has lived in Rhode Island for 13 generations. Those two women — Gladys Smith and Mary (Gracia) Evans — represent my personal foundation.
I first left Rhode Island while in Hope High School's arts magnet program to tour with a theater company, and have since lived in DC, Japan, California, and Israel. In addition to my current responsibilities, I am an ordained minister, published poet, singer and actress as well as a former teacher, education and arts administrator, and college counselor.
I worked with the State for its drinking water quality initiative; and at the Community College of Rhode Island, with Rhode Island Black Storytellers and the National Association of Black Storytellers and with Turnaround Arts: Providence as its program director. My work in Rhode Island that I am most proud of was my time spent at the Head Start Program in Providence, Pawtucket and Central Falls. I also hold a Bachelor of Arts (BA) degree from The American University, in Washington, DC, and a Master's in Education (EdM) from the University of Rhode Island.
All these many experiences make me who I am, and help me be the best for my community and focus on the issues I care about.
What's next for April Brown?
I am in the process of opening a consulting firm, AHB Enterprises. It will include education, such as writing curriculum; mentoring on a larger scale; and being able to write, talk, and teach on the issues we need to overcome. The firm will also operate in a certain way, with love at the center of the work. I believe it to be "the" superpower of human beings.