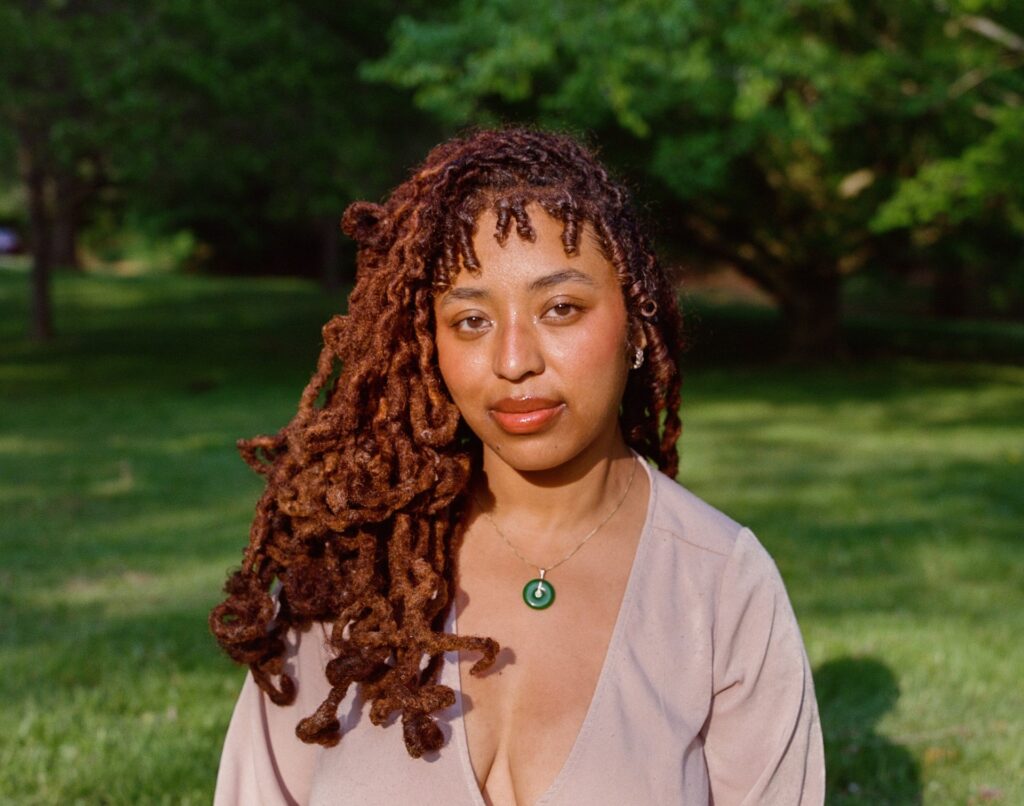 On your website, you describe yourself as "a photo-based artist." Can you tell us how this is different than just a photographer or an artist?
I call myself a photo-based artist because I go beyond the role of a photographer. From an early age, I always identified as a multi-faceted artist, always working in visual arts. At this stage my primary medium is film photography, but all of the roles that play into creating that image is not what someone who is just a photographer does. I am the creative director, stylist, set designer, location scout, make up artist, and a curator. Labeling myself as solely a photographer does not fully express who I am as an Artist and do justice to all the work that I do.
And your focus is on subjects of color and your community and culture. Please tell us about this in some depth.
My work is a reflection of my life. Most of my work is shot mostly within Providence and surrounding areas, my community. My subjects in my personal projects are usually friends and family, my community. And most of my clients are based in Providence and surrounding areas, my community. I do not discriminate but as a visual artist it is important to capture subjects who look like me. I think that it is vital to give positive representation to subjects of color. Traditionally in photography we are seen as suffering, enslaved, and in anguish. I would like to be able to give Black and brown people the chance to be seen as the beauty standard. There are too many instances of people looking at media, where Eurocentric features are so often glorified. I would like to change that narrative and perception on us. I hope to help others see and embrace the beauty within ourselves. We are the beauty standard.
Also, can you please explain how, as you state, your portraits aim to "represent Black people in a different light, an ethereal and vulnerable state."
People need to see BIPOC in photos where they are the gods. When we see angels in art, we are flooded with images of white faces. My work uplifts Black and brown faces to be the angelic ones. The faces that we look up to. Historically we are represented as struggling, suffering, and enslaved to this day. The work I create is the changing this narrative. With each subject I aim to capture them in a state of vulnerability. Stylistically I focus on using film, color, and light to provide an ethereal image. My mission is to uplift my people and capture them as royalty, angels, and godly.
Now let's get into some of your amazing work. There's a lot of it, so we'll have to focus on just a few! Start with a work entitled "The Fae."
"The Fae" was created this summer 2023, as a collaboration with designer Sahara Clemons. For her final project at her senior year at RISD her project entitled "Chameleon" aimed to fuse her work with materials that were complimentary to people who struggle with sensitive skin.
In this collaboration I wanted to also be able to work with this diverse group of kids to be able to create images that would express softness. My favorite piece was modeled by Celeste in "The Fae" and working with her I knew I wanted to capture that look specifically in the forest surrounded by moss. Tying in all of the values of my work and being able to capture her in that light she looked like a fairy to me, which gave birth to "The Fae."
How about a black-and-white that you posted last summer, "me."
This photo was actually taken by my talented friend, and another Providence-based photographer Kannetha Brown. She had asked me to model for her project "Two Oceans: Asian Americans in Providence". Wearing my traditional Cambodian clothes she captured me beautifully in my neighborhood just being me.
"Holiday Season" shows you overlooking a city. It's Providence, yes, and is that the Superman building in the background?
Yes! In the cover photo the Superman building is on the left.
What's the story behind "Chameleon"?
"Chameleon is a collection exploring how we navigate building a positive relationship with our skin and in extension our bodies -focusing on our periods of transition, metamorphosis, and healing. Clothing can act as a second skin or rather a soft armor during these times of change. Chameleon is about making sense of the struggle to be oneself and also adapt or blend in. The collection focuses on skin in particular in relation to my experience with eczema. My recent breakout facilitated my interest in fashion as play/function/armor." – Sahara Clemons.
I met Sahara by going to a model call for the annual RISD Fashion department show auditioning to runway model actually. I didn't end up walking in the show, but from this Sahara found me and reached out to collaborate and capture her final project "Chameleon".
And "Born and Raised," a photo of you on College Hill by the First Baptist Church in America?
This was just a photo I had taken of me by my wonderful partner, Brandon Arellano. We were walking to my first national gallery show I was a part of, dedicated to Edward Mitchell Bannister, celebrating BIPOC Artists. Here I displayed my piece "The Glitter Sista's" which ended up being the one and only piece that sold in this show!
You indeed were born and raised in Rhode Island. Tell us about the road that brought you to being such a distinctive creator.
Every experience in life has prepared and shaped me into the woman and creator that I am today. Even in experiences completely unrelated to Art, they have impacted my perspective. The art of observing throughout my entire life has created this eye. The vision is executed very naturally now, nothing is really pre-planned. I am a very go-with-the-flow type of being and I hope that energy flow exudes into the work.
Did you have any mentors along the way?
One person who fits that description would be my good friend, Jonathan Pitts-Wiley. Although I started my photography career before him, his technical intellect and skills are beyond my knowledge. His work ethic and passion for learning light is something I aim to achieve one day. He is fluent in understanding how light works, the foundation of photography.
Another person who recently became my mentor is Charlotte Abotsi. Recently, I just finished a five week grant writing program through the interlace fund and was paired with Charlotte. Together, she helped me write a grant proposal to be able to fund my first project. Working with Charlotte was actually a full circle moment for me because she used to work alongside my aunt at a nonprofit program called Breakthrough Providence. Charlotte is now a well-known and amazing poet and works with the Providence ACT.
Any inspirations from the art and/or photography worlds?
My biggest inspiration all around would definitely be the work from Solange. It's the music, the visuals, the blackness, the aesthetics, the feeling, specifically "When I Get Home" is my blueprint. I also very much enjoy the work and look up to photographers Deana Lawson, Tyler Mitchell, Petra Collins, Lorna Simpson, and Micaiah Carter.
Are you currently exhibiting anywhere – and are there plans for the future?
I am currently showcasing 2 pieces called Time Revealed at the WaterFire Arts Center for their Fireball Gala Fundraiser event. I also have "The Fae" on display at the UNFI Cafe in Providence.
Next month I will have some work in a show called Little Pictures at the Providence Art Club from November 5 to December 22. I'm also doing a similar show called Buy Art that will be on display at the WaterFire Arts Center from November 16 to January 7. And Lastly I am a part of the first group exhibition from a new collective called No Mind where I will have 5 pieces from "An Ode to Venus" on display November 17th and 18th at The WURKS.
What's next for Leiyana Simone?
Currently I am spending the next year working in a professional development program at the WaterFire Accelerate Program. I am also spending the next nine months working as an emerging artist fellow at AS220 learning event curation skills. Eventually once I'm confident in those skills I'll be able to successfully provide a safe space for other local photographers, models, and artists to connect. At the end of both of these programs will be a gallery exhibition where I'll have new work on display with each cohort. Aside from that, I'm spending some time as a gallery assistant to Michael Rose at the Providence Art Club. And in my personal work I have just started applying to a few grants to be able to fund for my debut photo book, coming sooner than you think. Stay tuned, it's gonna be a wild year!
You told us you'd like to talk a little more about the story behind some photos that I know that I and other people love so go ahead!
"Time Revealed"
One of my favorite projects that I worked on last year was "Time Revealed" by my best friend and, another Providence Artist HENNESSY. An EP dedicated to the emotions experienced in her 20s and unveiling vulnerability about the situations experienced in that era." We have worked together a number of times in the past, but this was the first time she put out a project like this. Originally this wasn't the first shoot we did for Time Revealed. The first session was partially unsuccessful due to the weather, and it being an outdoor session.
I think this project's photographs came out perfectly because in the end everything was created with intention. The setting being one of my good friend Ryan's first apartment. The journal being my own, the tapestry being the one used from our picnics, the incense, the candles things she loves, the boombox representing her love for music, the clothes being her dads, and the hairstyle representing her appreciation for her hair now. It's all of the little things that just naturally created this beautiful moment.
"The Glitter Sista's"
These photos were created as a commission by local Black owned photography collective, the Vanta Guild for Trinity Rep Co. Six female photographers were hired and asked to create content for the play "The Inferior Sex". A play set in a politically charged summer of 1972 in midtown Manhattan for a feminist fashion magazine.
The intention I set for this project was to simply have fun. I wanted to curate a group experience where we all got to truly have a great time. In this I got to style, creative direct, and shoot this entirely by myself. The pictures came back over exposed but no one could tell, and it actually worked. It gave them the affect of being from this time period. I really wanted to emphasize black hair, fashion, music. So I have every model who are actually all dear friends of mine, wear their hair in afros. And I styled and creative-directed them myself. The car used in this picture is owned by my dear friend Ryan, who also owns the apartment where we shot "Time Revealed". The outcome of this project was so loved and I think that it's because of the intention behind everything.