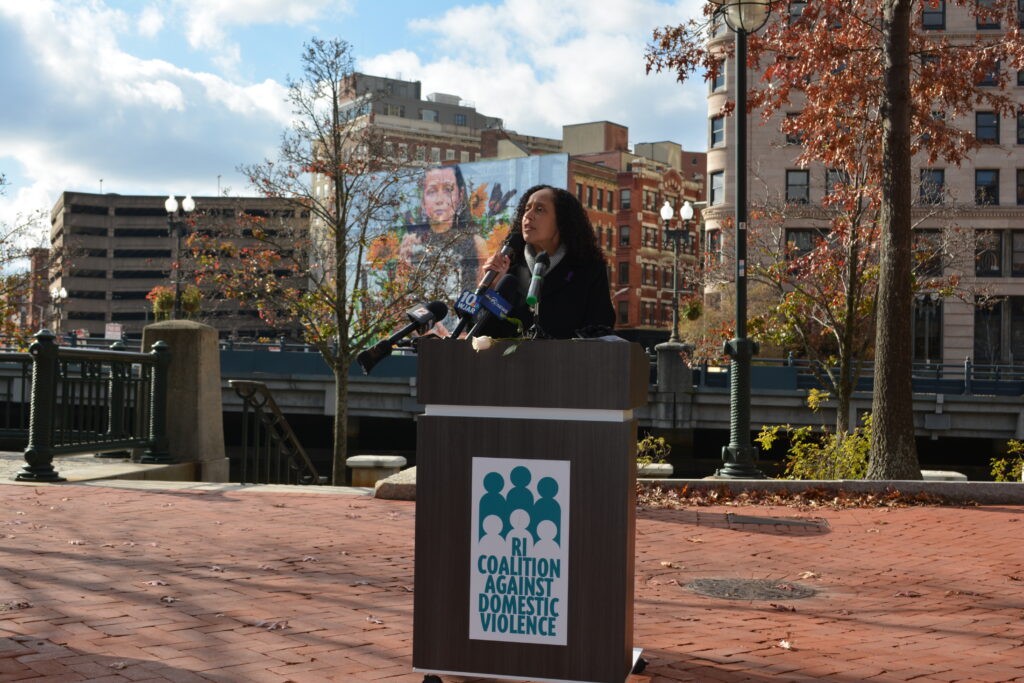 For those who may not be familiar with the Rhode Island Coalition Against Domestic Violence, can you give us an overview?
The Rhode Island Coalition Against Domestic Violence (RICADV) is an organization dedicated to ending domestic violence. The RICADV was formed in 1979 to support and assist the domestic violence agencies in Rhode Island and to provide statewide leadership on the issue. The organization strives to create justice for victims and raises awareness on the issue of domestic violence in Rhode Island. The RICADV's network of ten member agencies provides a wide array of services for victims, including emergency shelter, support groups, counseling services and assistance with the legal system.
Can you give us detail about RICADV's prevention efforts?
This month the RICADV released a new publication, Preventing Intimate Partner Violence in Rhode Island. The publication's expansive vision aligns with emerging public health science on how to prevent intimate partner violence (IPV)before it happens in the first place. As a recipient of Centers for Disease Control and Prevention (CDC) funding since 2003, the RICADV has been contributing to this national evidence base for the past 20 years, applying a public health approach to IPV prevention. We are fortunate to receive prevention funding from the Centers for Disease Control and Prevention (CDC) to work on strategies for stopping domestic violence before it starts, before people ever become victims or perpetrators of abuse. These efforts seek to change the norms and conditions in our communities that make it more likely someone will choose to use violence or become a victim of it.
We have been a recipient of this competitive CDC grant for the past 20 years and have developed innovative prevention approaches with the support of this funding, including the nationally-recognized Ten Men strategy. Ten Men engages local men as allies for gender equity and supports them as active bystanders to challenge harmful gender norms and prevent violence.
The RICADV also administers the Rhode Island Deborah DeBare Domestic Violence Prevention Fund (DVPF), which is the state's first and only funding dedicated to primary prevention. The DVPF supports services for children who have witnessed domestic violence to help break the intergenerational cycle of abuse. The DVPF also funds community organizations to develop and lead primary prevention projects, with a focus on engaging and affirming young people who are most impacted by violence, including young people of color and young people who are LGBTQ+. The RICADV has supported local organizations and groups to implement 37 prevention projects in communities across the state since the RI General Assembly established the DVPF in 2016.
And what about policy work and survivor activism?
The RICADV focuses on policy and legislative advocacy in a variety of settings and ways. This could be supporting a bill to increase paid leave so that individuals who experience domestic violence can take the time off work if they need to get to safety and still provide for themselves and/or their children. It also means that we advocate for bills that would further protect victims and survivors, such as the Address Confidentiality Program passed last year. In the past, this policy work has also included reform to gun laws to remove weapons from the hands of abusers and save lives as a result.
This year, the RICADV is prioritizing passing an Abusive Litigation bill that is sponsored by Representative Kazarian (H5883), House Majority Whip, and Senator Euer (bill number forthcoming), Senate Judiciary Chair. The legislation is based on an Abusive Litigation law that passed in Washington state in 2020. The bill would protect a survivor who has left an abusive relationship from being dragged back to the courts repeatedly by an abusive ex-partner trying to use the court system to further control and harm them financially and emotionally. This is an intimidation tactic that abusers may use after the victim is free from the relationship. It is damaging in multiple ways, and can impact a survivor's ability to maintain employment and financial stability. We have heard from survivors that abusers use the courts to continue contact and exert control, even though a restraining order may be in place. This pattern of weaponizing the civil court system allows continued unwanted contact with the ex-abusive partner. Additionally, survivors have shared the mental and emotional impacts of being attacked by the abuser over and over again via the judicial system. To advocate for this critical legislation, we will highlight the testimony of survivors who have experienced this form of abuse and are now pushing for this new protective tool.
What is SOAR, Sisters Overcoming Abusive Relationships?
SOAR is a task force of survivors that informs the RICADV's work and gives voice to victims and survivors of abuse. SOAR meets regularly to discuss important topics surrounding advocacy and support of victims of domestic violence. They provide insight into the issues that are most important to survivors, and they advocate for change.
SOAR members often provide testimony during the legislative session in support of the RICADV's legislative priorities because their stories and lived experience are vital for us to understand the impacts of domestic violence. This last year, it was SOAR members' testimonies that helped us to solidify the need for victims to have address confidentiality, so that they would not be found by a previous partner and could be safe after ending an abusive relationship. This advocacy was instrumental in passing the Address Confidentiality Program, which was passed unanimously the first time it was introduced to the RI General Assembly.
What advice would you have for women — and, occasionally men — who are involved in a violent relationship and may feel they are unable to get out?
If you are being abused, know that you are not alone and that the abuse is not your fault. Domestic violence does not discriminate. It affects people of all genders and gender nonconforming individuals as well. Victims of domestic abuse are the experts in their own lives and know best how they can remain safe until they are able to receive the help and support they need.
Domestic violence consists of a combination of abusive tactics and sets of behaviors that an abusive partner uses to establish and maintain power and control. These tactics also make it more difficult for survivors to leave. Tactics like isolation, removing financial supports, and creating fear in the victim that the abuser will harm them, their children, their family members, or their pets if they leave are real barriers.
We have many resources available on our website to help you get to safety. Tell a neighbor, friend, family member you trust and create a safety plan. We have resources for a safety plan on our website, including a list of what to take with you if you are able to get out, such as important documents. We recommend you call the 24-hour statewide confidential Helpline at 1-800-494-8100 to ask questions and get advice on local resources to get you to safety.
And what advice would you have for a relative or friend of such a person who is aware of what's going on?
If someone you know is experiencing abuse let them know that you are there for them and remind them that what they are experiencing is not their fault. You may notice that the victim is more withdrawn from contact and social events, but don't give up. Keep reaching out and try your best to retain contact so they can reach out to you when they are ready. The reason victims often lose contact with others is because abusers restrict time with friends and family, become suspicious of any activities the victim participates in without them, and may even restrict and/or monitor their phone or internet use. We have heard from survivors that it is best to focus on supports and not say disparaging things about the abuser. This is for a variety of reasons, primarily because it takes away from the focus being on the safety of the victim. You can share resources, warning signs and information about resources to find help and stay safe.
Are there education efforts underway in any schools in Rhode Island?
There are education efforts to create awareness about the dynamics of abuse and help students who may be experiencing or know someone experiencing abuse. Rhode Island passed a law in 2007 called the Lindsay Ann Burke Act that requires every middle and high school in our state to teach students and staff about the dynamics of abuse and to have a policy on how to respond to incidents of dating violence.
We released a report in 2017 that outlines our recommendations to improve the implementation of the Lindsay Ann Burke Act so that it is more consistent from community to community as we educate students and staff about teen dating violence. We share the full report on our website on our Prevention page. We are thrilled Rhode Island was the first state to pass a law to teach students about domestic violence, and we want to make sure that the law is being followed- that everyone from the superintendent to teachers, admin, and even parents understand the ways in which we need to work together to make sure young people learn about abuse and understand the dynamics so they do not experience or perpetrate abuse themselves.
Tell us about yourself — the journey that brought you to become executive director of RICADV.
I believe I was called to do domestic violence work. Prior to joining the RICADV, I worked directly with young people providing social emotional learning activities in schools and afterschool programs. While I loved having a one-to-one connection with students and developing programs for youth, I was only able to influence and impact the young people that opted into the programs I led, and a handful of communities. All the social justice work I engaged in my community was as a volunteer. Going to the RICADV changed that, allowing me to have a broader statewide impact rooted in social justice. Once I realized this, I knew I was home. I began my career in the domestic violence movement as the training and prevention coordinator for the RICADV twenty years ago. I was fortunate to work under brilliant organizational leaders who trusted my leadership, supported my growth, and provided me with leadership opportunities that prepared me to serve in this role. I have also been mentored by amazing women of color along the way, both in and outside the organization, and I'm deeply grateful for them. Their wisdom, friendship and support give me hope and strength on challenging days. I also draw on the strength of the survivors we work with who have experienced trauma and continually exhibit resilience in their lives and in their efforts with us to create a more just and equitable Rhode Island – one that is free from violence.